The 60s was a period of enlightenment and liberation for Sims. Her work at this time was experimental in nature, exploring new materials and 3D constructions with non-precious and unorthodox approaches. This body of work consists of a number of compositions that pushed the boundaries of conventional printmaking in 2D and 3D, while maintaining fine printmaking standards as much as possible.

She also experimented with color (Xerox) copy-machine reproduction, printing on/with inexpensive materials. She produced many give-away and throw-away pieces.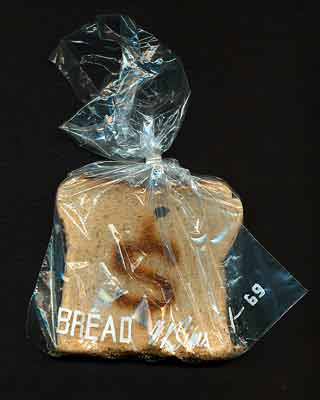 left: "Bread"
Ongoing street piece give-away, performed in various cities including N.Y. in 1969
Toaster print on bread slice, in screen-printed lunch baggie
© 1969 M. K. Sims

In this piece Sims handed out bread slices (on the street) with dollar signs toasted onto them. This was the beginning of her "Surreptitious Art©" which is on-going and remains a recurring facet of her present work. It is her favorite way of working as it combines artwork with performance.

Many of her Surreptitious pieces are now composed on her computer. The pieces invoke elements of political comment, general disgust, humor and a large factor of surprise.